Heather Leith: Advocating All Year Long
It was 2012 when Biola University junior, Heather Leith, decided to participate in Dressember for the first time. Because her sister, Shannon, is close friends with Dressember's founder, Blythe Hill, she's heard about it since the very beginning. As that year's campaign came to an end, she found herself discouraged that she hadn't met her goal. She questioned whether her meager amount would make any impact in the lives of trafficking victims.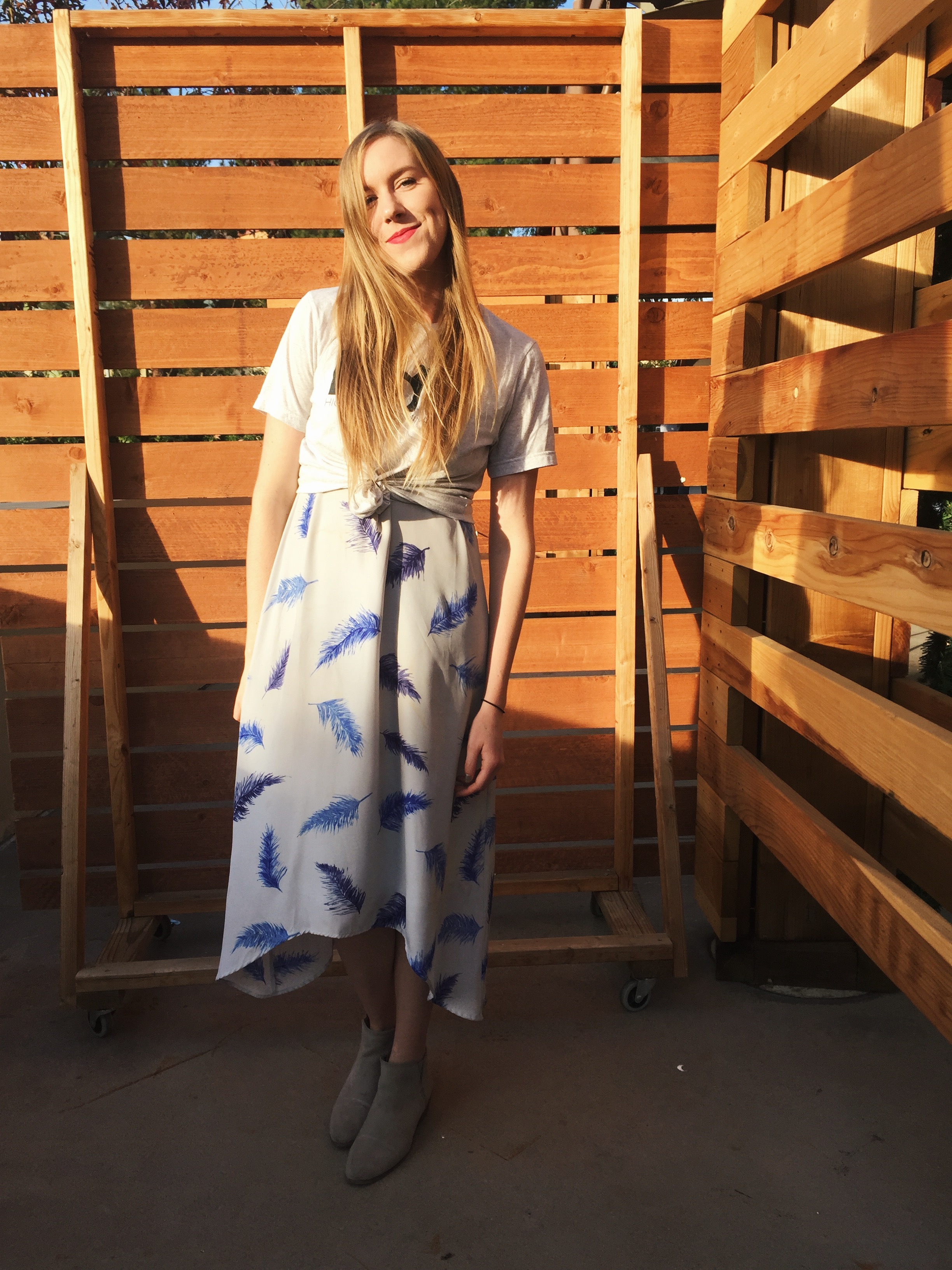 "What difference is it to me just to wear a dress, when it could change other people's lives?"
Because of this disappointment, Heather opted out of Dressember for the next four years telling herself, "Someone else will do it. It doesn't have to be me."
Heather feels called to work with high school students, and has spent over six years working in youth ministry. Because of this, she follows a lot of teens on social media and was pleased to see her feed flooded with girls doing Dressember each year. Over the years, she was inspired by students in high school and even middle school who were passionate about ending human trafficking.
Seeing the dedication of the high school students she works with inspired Heather to take a leap and get back into the Dressember game. So on December 1st, 2017 Heather thought to herself, "What difference is it to me just to wear a dress, when it could change other people's lives?" She got out of bed, re-packed her suitcase for a youth retreat she was going on, and launched her fundraising page. Her month of dresses had begun.
She started off with a $2,000 goal - thinking that was a good, even number. This was scary considering her past fundraising disappointment, but there was no turning back - and maybe she could reach $2,000 after all. . .
It took a few days for donations to start coming in, but Heather's own donation encouraged others to join. She saw other advocates providing incentives for their donors, and she had an idea to do some giveaways of her own with devotional booklets she had. She thinks these giveaways were the key to her success this year. One girl donated every week just so that she would be entered to win a devotional each time.
"People can advocate with every single dollar that they spend."
Heading into January, Heather had exceeded her original goal of $2,000, and raised it to $3,000 - and crushed it, with a total of $3,535 from 72 donors! Even though she was back to wearing pants, she continued to ask for donations. She changed her incentive for that month, giving away a calligraphy print to anyone who donated. She spent a lot of time at the post office in December and January!
While every Dressember advocate benefits from being part of the larger community as we raise money to end human trafficking, Heather was able to do Dressember along with her family, friends, and students. One 16-year-old girl in Heather's youth ministry had been saving her money all year and planned to give it to a charity come December. She gave all of her money to Dressember's campaign, through Heather's page.
The thing that Heather found most impactful was her own research into the horrors of human trafficking. She learned how prevalent it is where she lives in Orange County, CA. In one of her Dressember updates, she debunked the myth that human trafficking is not happening in the United States, showing that Orange County ranks highest in sex trafficking over the rest of California.
"Hopefully in our lifetime we'll see this end."
While participating in Dressember, Heather was conscious about her clothing purchases, which often gave money to unethical companies. One of her goals this year is to only purchase clothing that is ethically and sustainably produced. So far, it has been rewarding to realize that she is not contributing to companies that profit from unfair practices. A few years ago, she would have thought it didn't matter where her money went - after all, she is only one person. Now she says, "People can advocate with every single dollar that they spend."
Heather hopes that this year, the first day of Dressember will not have been the first day she did anything to end human trafficking in 2018. Instead, she seeks to make this a life-long mission and wants to continue learning how to advocate for victims all year long. Even though her first shot at Dressember didn't go as planned, Heather has since seen the impact of our everyday actions and the generosity of multiple generations. She is encouraged by the money Dressember has raised so far and all the work our partner organizations are doing to eradicate human trafficking. "Hopefully in our lifetime we'll see this end," she said.
Raise your voice against slavery this December!
Commit to wearing a dress or tie every day in December. You'll challenge yourself, expand your knowledge on modern slavery, and be equipped to lead your community in the fight to end human trafficking. Registration is open for Dressember 2018 and fundraising has already started! Be a part of the impact for our local and global partners by creating your campaign page today!
Rae Rohm is an avid baker, an enthusiastic storyteller and a thoughtful writer who hails from Delaware. She is a graduate of Biola University, where she studied journalism. When she is not teaching people about the glories of her home state, she can be found enjoying nature with her sweet but mischievous puppy, singing along to music while running on the treadmill, and making gifts for her family and friends. Rae loves using her skills and talents to bring all people - past and present, near and far - into fellowship with one another.